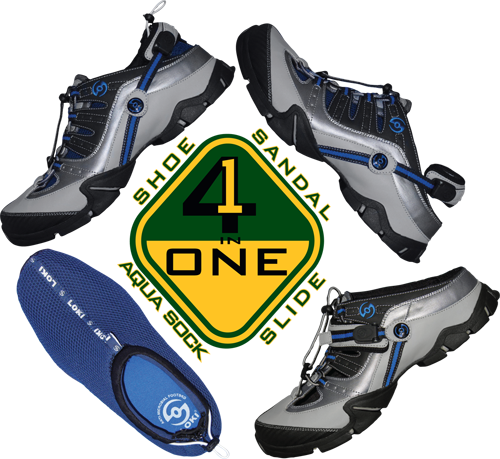 What is the Loki Morph 4-in-1?


Utilizing patent-pending technology, the Morph 4-in-1 system creates four forms of footwear from one initial shoe. The Morph has been designed to give the outdoor enthusiast one shoe that can do it all. It has the ability to change form to suit the conditions of its environment. With its removable molded EVA footbed, adjustable collar bungee, high-tech stretch fabric, and non-slip rubber outsole, the Morph is equally at home in the water as it is on land. With one shoe you get:
Rugged Casual Shoe
Great for camping, rafting, and fishing, as well as just walking around.
Amphibious River Sandal
Water-friendly sandal, great for land or water activities.
Slide Sandal
Easy-on/easy-off sandal, great for any get-up-and-go activity.
Aqua Bootie
Great for crossing streams, lounging around the pool, or playing at the beach.